Back to School 2016-2017
Classes resume Tuesday, August 30
We are looking forward to welcoming all returning and new students in the 2016–2017 school year.  Our office will be open on Aug. 22, 2016
Below you will find answers to many of your back-to-school questions.
High School Pick up time table, Registration Dates for High School Only
Timetable pickup/registrations takes place on the following dates:
Grade 12: August 24, 9 a.m. to 11 a.m.
Grade 11: August 24, 1 p.m. to 3 p.m.
Grade 10: August 25, 9 a.m. to 11 a.m.


New Student Registration
If you have a child starting at Lamont High School for the first time in the upcoming 2016–2017 school year and haven't yet registered them, there's still time. Simply, fill out the Student Registration Form and drop it off at the school office at the times noted below:
Date: August 23 to August 25
Time: 9 a.m. to 2 p.m.
Location: 4811 – 50th Lamont
*Be sure to bring with you the following: proof of residency and the student's birth certificate.
Important Dates and Times
For a complete list of holidays and school-closure days during the 2016–2017 school year, refer to the EIPS Division Calendar; school-specific dates and activities are available on our School Calendar Our Lamont High School Bell Schedule is also available to assist you with future planning.
School Supply Lists
To assist with the purchasing of school materials, we have compiled a School Supply List

Tools for School
If you are a parent, or know of a parent, who needs help purchasing school supplies this year, we can help. Elk Island Public Schools has once again partnered with the United Way for the 2016–2017 Tools for School campaign. Annually, Tools for School provides backpacks filled with school supplies to students in Kindergarten through Grade 12 whose families have limited resources. When classes resume, we will respectfully distribute the backpack to your child. To place an order, contact EIPS' Central Office at 780-464-3477.
School Fees
Families will be invoiced for school fees at the beginning of every school year. Fees are due within 30-days of the invoice date. The simplest, and most convenient, way to pay school fees is by using ACORN. Simply login to PowerSchool and go to "Student Fees," there you will be able to view your fees and pay them online using Visa, MasterCard, or INTERAC—when available from your financial institution.
You can find more information about school fees at www.eips.ca/schools/school-fees.

Student Transportation
All families using EIPS Student Transportation services for the 2016–2017 school year should have already received a tentative route schedule. Those required to pay applicable transportation fees should have also received a separate invoice outlining payment information—we encourage parents to pay fees online. All transportation fees are due by June 30, 2016.
If you haven't received a letter from Student Transportation yet, and would like to inquire about busing for your child, contact Student Transportation at 780-417-8151.
NOTE: Bus passes and any updated route information will be mailed to families in August.

Questions and Concerns about the Start of School?
If you have any questions we haven't addressed here, please contact: Sharon McLean, Principal  
The office will reopen on Aug. 22, 2016 at 9 a.m.
For more information about back-to-school visit: www.eips.ca/parents/back-to-school.

We look forward to a great year ahead!
Grad Tribute Video 2016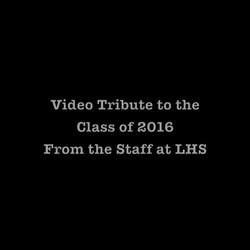 Congratulations to the Class of 2016. Click the link below to check out the video tribute from the staff. 
https://drive.google.com/file/d/0B0FLCJxsCwZqT0hCSFFlQ1JxcUk/view?usp=sharing
Lamont High Wins Quality Daily PE Award from PHE Canada!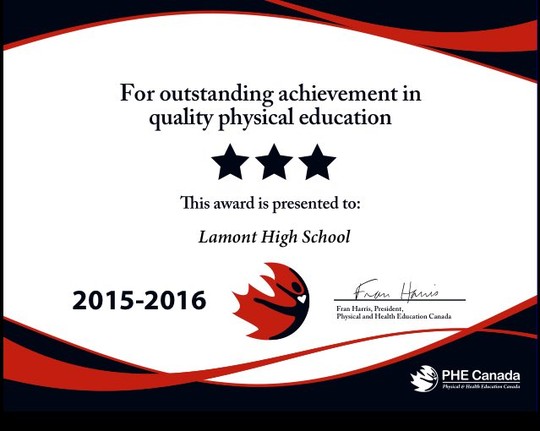 Thank you @LamontLeader and all the sponsors of #LamontLakerPride for your support throughout the year!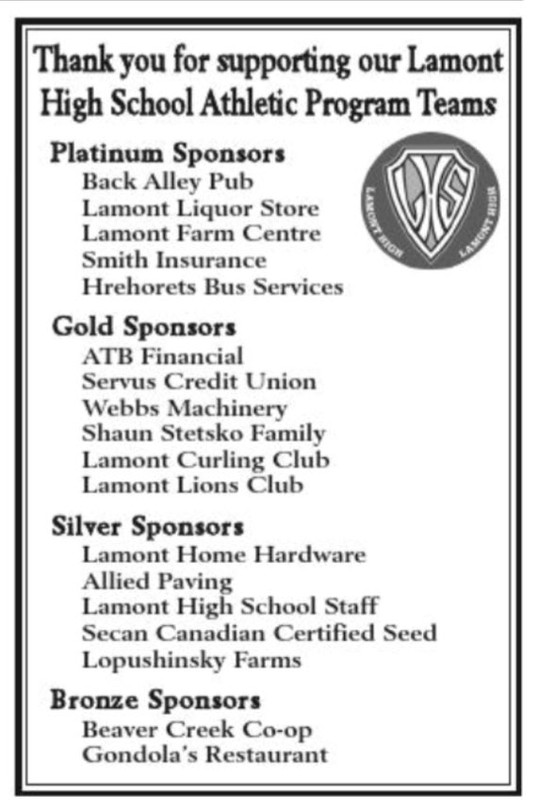 Lakers Athletics Wrap-up Successful Year!
The Lamont High Lakers wrapped up a very successful year in Athletics.  If we were to describe the year of athletics at LHS it could be done in one word, growth.  The program added two volleyball teams, saw a return of curling to the high school and saw a tremendous increase in participation numbers in badminton, golf and track and field.  This growth could not have been possible without extra dedication from staff coaching teams and from community support to aid in the increase in expenses and support of our home tournaments.
The volleyball program added high school boys and grade 9 boys teams this year, moving our team numbers to five and allowing approximately 55 kids in grades 7 – 12 to play the game.  A highlight from the season was the junior high boys winning the EIPS league championship and the girls finishing second in the league as well.  The high school teams both went to zones where they represented Lamont High very well; the high school boys team for the first time this century!
The basketball program had four teams as well and saw many successes also.  Again the junior high boys team won the EIPS league and the girls finished second, both having very strong seasons winning their home tournament as well in January.  The high school boys team had success losing in the consolation final at Redwater over the year and the high school girls team was consolation champions in Bonnyville over the year as well. 
Badminton and track saw the most growth this year.  The junior high badminton team had 44 players seeing action for the Lakers and the high school team had twenty students competing in the royal blue.  Highlights for the year saw the Lakers send five students to zones in Lac La Biche for high school and multiple junior high players finishing in the top three at the EIPS badminton league tournament.  Track and field had 31 junior high competitors six high school students, with all six high school students representing LHS at zones again in St. Paul.  The junior high track team had great success as well with members Dylan Zacharko (shotput), Ethan Zago (100 M, 1500 M, 400 M relay), Connor Kardash (javelin) and Nick Dyck (high jump) representing Lamont High at junior high zones in St. Albert. 
Curling and golf also had prosperous seasons representing the Lakers.  The curling team consisted of a boys team and girls team with both teams going 1-2 at zones after playing and practicing in the Friday night recreational league at the Lamont Curling Club.  The high school golf team competed in September at zones at Whitetail Crossing in Mundare and finished 6th in the 12 team tournament.  The junior high golf team, fresh off their spring golf camp competed at the EIPS tournament also at Whitetail Crossing, and finished 7th  out of 10 teams.
 The Lakers Athletic Program and Lamont High School want to thank all staff members who dedicated time over the year to coach; to community members and parents for their support of the students in these endeavors; and to the businesses and families of Lamont and the surrounding area that sponsored the Athletic Program; the season, the growth and the successes would not have been possible without any of these contributors.  Lamont High School, the Athletic Program and all its staff wish everyone a safe and restful summer!
Get Your Lakers Athletics Gear Here!
Click here to be directed to our NEW Lakers Gear clothing website!  Enter the code ENTRIPYSHOPS10 for a 10% discount!
Calendars and Schedules
Calendars and Schedules
EIPS 2016/17 Division Calendar
Follow us on Twitter!
Follow us on Instagram!
Division News